Infant Summer School 2023
The Infant Department is organising a summer school in Milton House, with classes in English (native teachers), sports, games, crafts, workshops, etc.
Registration: Open for both Canterbury School Students (Pre-Nursery, Nursery, Reception and Year 1) and outside students from 3-6 years of age (children born in 2017-2018-2019) and 2020-2021 born children who will be starting at our school in September 2023.
Dates: From 3rd to 28th July (lunch included)
Hours: 8:30 to 15:30 (Monday to Friday)
SEE WHAT ACTIVITIES WE OFFER!
● English classes taught by native teachers.
● A whole range of exciting crafts, games, workshops and sports.
● All the Covid-19 hygiene and safety measures necessary will be in place.
● Lunches are freshly cooked daily in our own school kitchen.
The aim of this Summer School is that children enjoy themselves as much as possible by learning English in an entertaining and fun way.
ACTIVITIES
● Creative activities: Painting, sticking, threading, cutting, modelling with plasticine and clay, drawing, colouring…
● Physical Development: going up, over, down and through obstacles, running, jumping, throwing, catching…
● Drama and music: singing, dancing, role play, drama…developing their creativity.
● Knowledge and understanding of the world: plants, animals, places, full, empty, changes, appear, disappear…
● Social Development: developing relationships with other children and adults, sharing, taking turns, being responsible and helping.
● Gardening Workshops
● Cooking Workshops
● Foam Party
● Sports Activities (each Tuesday and Thursday the children will have sports & basketball activities )
CLOTHING
Comfy T-shirt, shorts or tracksuit and trainers.
And inside their backpack (no trolley bags):
– A daily snack
– A change of clothes
– A hat
– A re-fillable bottle of water
All belongings must be marked with the child's name.
On the days that there are FOAM PARTY, each child should bring a bag with
a swim suit, a pair of flip flops, towel, goggles and water toys.
Don't forget to name all your clothes and toys!
TABLE OF PRICES (Lunch included)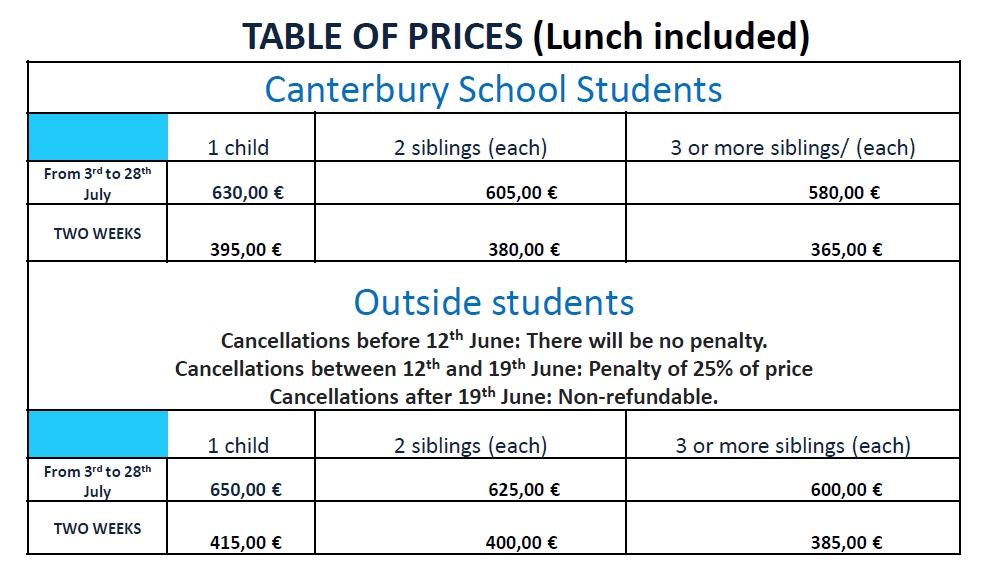 REGISTRATION FORM
Canterbury Students – download files:
Presentation Summer School 2023
Enrolment Summer School 2023
Outside Students – download files:
Presentation Summer School 2023
Enrolment Summer School 2023
Registration Form Summer School 2023
Authorisations Summer School 2023
The Registration form should be handed in either to the office in Milton House or in San Lorenzo from 17th April onwards.
CONTACT
Address: Plaza Milton 3, 35005, Las Palmas de Gran Canaria
Telephone: 828 113 023
E-mail: milton@canterburyschool.com
WE ARE WAITING FOR YOU!